February 25, 2019
Virgo: A Name to Reckon with among Laminate Manufacturers in India
,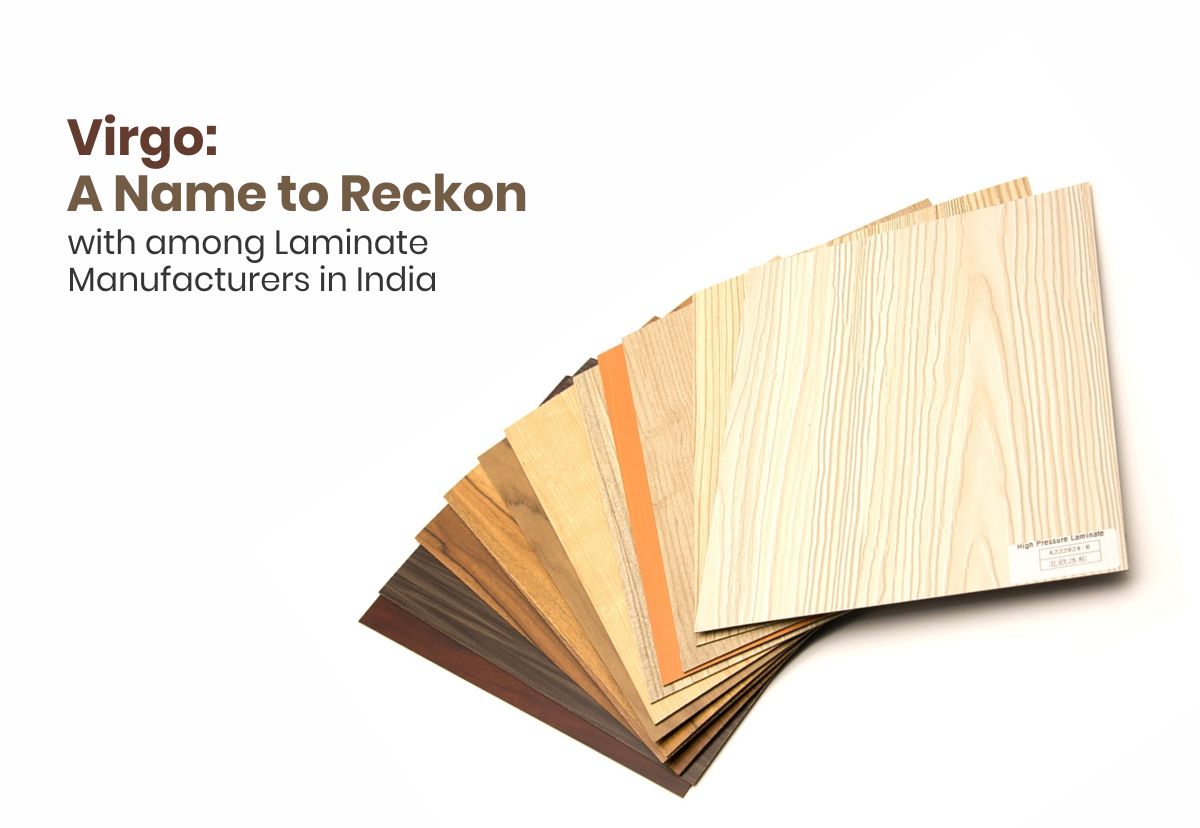 The latest interior trends focus on the use of laminates that are widely available in the market. Laminates have become quite popular because of their beneficial properties such as high durability, stain resistance, water resistance, ease of installation and affordability, to name a few. There are several laminate companies in India that offer a range of options for you to decorate your home or office. You can easily find a number of laminate suppliers in your neighborhood. However, it can become overwhelming when you have to choose one amongst so many laminate manufacturers. So, if you looking for high-quality laminates that are durable and affordable, then choose the products offered by Virgo Group – one of the leading laminate manufacturers in India.
Our Virgo Group
Virgo Group is an ISO 14001 certified laminate manufacturer that provides you with an array of laminate products to complement your décor ideas. Whether you want to renovate your kitchen or install a new cubicle in your office, we offer a gamut of options. Our laminates are available in a variety of colors, designs, patterns, and textures to help you turn your décor ideas into reality. Besides, our chain of laminate suppliers makes our products easily accessible, and you can conveniently get the desired products within the stipulated time frame.
A Canvas of Choice in Laminates
A trusted name amongst the laminate companies in India, Virgo Group manufactures the best-quality products that are high on innovation. Since we are one of the largest laminate manufacturers in the country, the laminate suppliers and customers have certain expectations from us, and we do our best to live up to their expectations. We are constantly looking out for innovation and challenges in the industry to upgrade our product catalog. We acknowledge the changing trends and accordingly provide the latest products to our laminate suppliers across the country. So, if there is some new product in the market, then you don't have to scour different laminate manufacturers, instead just contact any of our laminate suppliers. Surely, you will get whatever you desire to decorate or renovate your home or office. Our innovative, technologically advanced and affordable products have helped us make a name for ourselves among laminate companies in India. You can easily enhance the beauty of your home or office with our quality-crafted laminates. You can choose from our following range of products:
Virgo General Purpose Laminates
Virgo Mica Laminates
Croma Decorative Laminates
Corby Laminates
Virgo PVC Laminates
Benefits of Choosing Virgo Laminates
Qualities You Can Be Sure of
We, including every member of the in-house team as well as each of our laminate suppliers, value our customers; and thus, ensure that they get value for their money. Our team reaches out to perfection for the total satisfaction of customers. We keep challenging ourselves and pushing the envelope to come up with innovative and best quality products for them. Our range of products impresses customers because of the following qualities:
High Quality
Affordability
Durability
Beautiful Designs
Stunning Textures
Amazing Patterns
Hassle-free Installation
Easy Maintenance
Stain Resistance
Water Resistance
Commitment to Excel
Virgo Is the Name You Can Trust!
Our competitive and contemporary range of products is constantly winning the hearts of customers across the country. The prime reason behind us being one of the top laminate manufacturers in the country is the commitment to excel. We work tirelessly so that our customers are never disappointed in us. Whenever customers contact any of our laminate suppliers, they instantly get products of their choice or even better options than they envisage. Our zeal to excel and to offer customers high-quality products has made us one of the best laminate companies in India. We are undoubtedly the foremost choice of laminate suppliers and customers across the country, being one of the best laminate manufacturers in India.